State Street Reconstruction, Basin Street to the Inner Loop
Project Type

Land Surveying

Date

2020 – Ongoing

Location

City of Rochester, Monroe County, New York

Role

Work Performed:
Preparation of a Digital Terrain Model
Location of ROW and Property Lines
Production of Appropriation Maps
Signage Inventory
Replacement signage design
Pavement marking plans
RCS Monumentation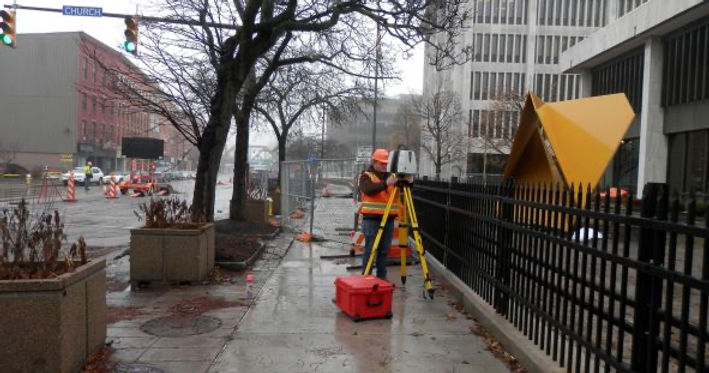 This Federal, State and Locally-funded project includes pavement reconstruction and minor widening of State Street from Basin Street to the Inner Loop in downtown Rochester, as part of the City's Riverway vision and Main Street Streetscape project. Roadway improvements include curb modifications and bump outs at intersections, new sidewalks, driveway aprons, lighting, drainage basins, pavement markings, signing, landscaping and traffic signal improvements.

Prudent Engineering, LLC (Prudent) provided design survey and mapping services in support of this project. LiDAR, conventional, and GPS survey methods were used to collect site data for the production of a topographic survey map, including above and below ground infrastructure and utilities. Right-of-Way (ROW) mapping and acquisition maps for three property acquisitions were completed in accordance with the PLAFAP Manual.

Prudent's design team located and identified existing traffic signs, including overhead signs and pavement markings and designed new signage and pavement marking plans, including marked crosswalks in the layout. Project deliverables included development of Sign Text Data Sheets, sign and pavement marking general plans, RCS Monumentation, and quantity and cost estimates. All plans were completed in accordance with Chapter 21 of the NYSDOT Highway Design Manual.