ALEXANDRIA BAY RIVERWALK PROJECT
Project Type

Civil & Site Design

Date

Completed

Location

Jefferson County, New York

Role

Objectives:

• Preliminary & Final Design (Phases I-VI)

• Project Design Report

• Hydraulic Analysis

• Boardwalk & Substructure Design

• Trail/Highway Design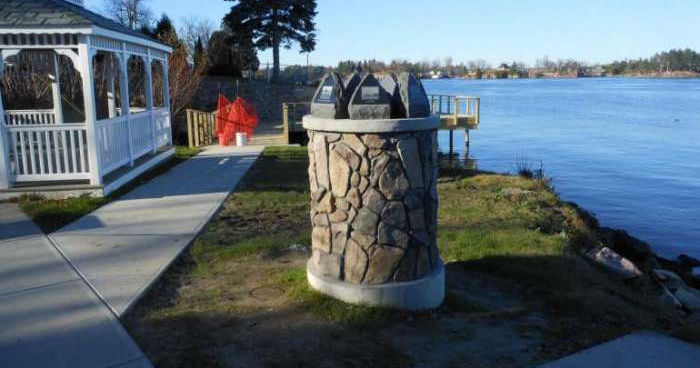 Prudent Engineering performed as the prime consultant for the Town of Alexandria on this Locally Administered Federally Funded project, providing preliminary and final design services following the Locally Administered Federal Aid Design process.

The River Walk is a pedestrian facility that incorporates the improvement of existing sidewalks and the construction of a new pedestrian walkway that establishes a connection among the Village's business center, two parks, and the waterfront. The trail, which includes 5,300 LF of walkway / trail, blends 4,300 LF of new trail and enhancement with 1,000 LF of existing trail. The trail width varies from 5 ft. to 14 ft., and its surface is a combination of concrete and brick pavers. Along the alignment of the trail, interpretative kiosks and historical elements highlight the historical background of Alexandria Bay. Where the trail intersects Scuba Park, on the river edge of the St. Lawrence River, a 400-ft.-long elevated boardwalk runs along a reconstructed seawall and offers users a beautiful view of the river and Boldt Castle.

The design report was completed in conjunction with the NYSDOT, NYS Office of Parks, Recreation & Historic Preservation, and other State agencies. Prudent held community workshops to enhance public involvement and conducted public information meetings and a public hearing. In addition, Prudent successfully involved the River Hospital regarding river-transported emergency services that are a priority in the river front section of the project. This was a LDSA project in which Prudent's CI department completed the entire Construction Inspection.

Key Project Features:

• ADA and pedestrian access from Fuller Street into Scenic View Park with main ADA access from shelter in Scenic View Park;
• Sidewalk/roadside upgrades along Fuller and Church Streets;
• ADA access upgrades in Scenic View Park;
• Trail and landscape enhancements; and,
• Overall trail continuity and segment linkage.