CANAL IMPOUNDING EMBANKMENT CONDITION INSPECTIONS
Project Type

Hydrographic Services

Date

April 2023

Location

Erie Canal, Western Division, New York

Role

Canal Impounding Embankment Condition Assessment
Hazard Class Review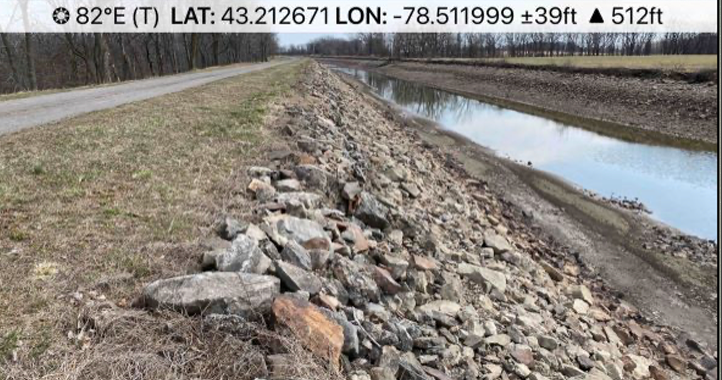 Prudent Engineering, as subconsultant, was retained to do condition inspection services under NYPA / NYSCC contract K21-10317906CC, Multi-Year Canal Water Impounding Embankment Inspection Program.

Prudent is providing Team Leaders and Assistant Team Leaders to perform condition assessments of canal embankments in Section 7 in the Canals Western Division. To date, Prudent staff have inspected eight sections (STRINS) of canal embankments on the Erie Canal from east of the Town of Gasport to west of the Town of Middleport in Niagara County, New York.

Inspections involved Prudent staff cataloging/assessing embankment geometry, outboard slope, inboard slope, crest and upstream face, and indications of seepage as well as noting the existence of features such as dive culverts. Collected observations are used for framing a risk assessment and rating for each embankment section. Spatially located photographic documentation, field notes, and risk assessment analysis were then presented in individual Embankment Inspection reports summarizing observations; condition rating, apparent hazard classification and risk category; and recommendations.